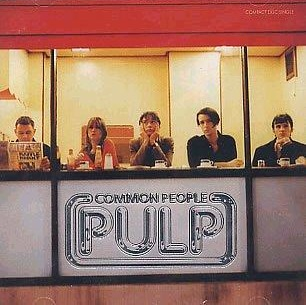 Nouvelle musicale de la semaine: les musiciens du groupe Pulp, séparés depuis 2001, ont annoncé leur réunion pour quelques concerts l'année prochaine. Une bonne occasion de réécouter leur classique Common People.

En 1995 au UK, personne – ou presque – (bon d'accord j'exagère) – n'écoutait Blur ou Oasis. Sur le devant du dancefloor s'agitait Jarvis Cocker, un grand échalas aux moves pas très disco. Common People était sur toutes les ondes, avec ses paroles percutantes et son synthé entêtant. La chanson est tirée de l'album Different Class, ou Jarvis et ses collègues de Pulp (un groupe originaire de Sheffield) laissaient paraître leurs obsessions (qui concernaient surtout les jupes des filles).
Les plus jeunes ne le connaissent peut-être que comme le chanteur des Weird Sisters du bal de Noël d'Harry Potter, mais à l'époque Jarvis était la star la plus cool du mouvement Britpop. Comme le montre le clip de Common People, tourné dans un vieux nightclub londonien sorti tout droit des années 1970s, c'était aussi sans doute le meilleur danseur du lot. Et peut-être même le meilleur écrivain: la première ligne de la chanson est merveilleuse d'efficacité et de poésie.
By the way, Common People parle du phénomène qu'on appelle ici "slumming it", ou se taudis-i-ser. C'est à dire les gens qui aiment prétendre qu'ils sont pauvres, parce que ça fait plus cool – une activité que les upper class aiment toujours autant en 2010 qu'en 1995.
Common People, par Pulp (1995)

She came from Greece she had a thirst for knowledge /
Elle venait de Grèce elle avait soif de connaissance,
She studied sculpture at Saint Martin's College / Elle étudiait la sculpture à Saint Martin's
That's where I caught her eye / C'est là qu'elle m'a remarqué
She told me that her Dad was loaded / Elle ma dit que son père était plein aux as
I said in that case I'll have a rum and coke-cola / J'ai dit dans ce cas je prendrais un rhum-coca
She said fine and in thirty seconds time she said /
Elle répondit d'accord, et trente secondes après me dit :
I want to live like common people / Je veux vivre comme les gens ordinaires
I want to do whatever common people do / Je veux faire tout ce que font les gens ordinaires,
I want to sleep with common people / Je veux coucher avec des gens ordinaires
I want to sleep with common people like you / Je veux coucher avec des gens ordinaires comme toi

Well what else could I do / Et bien qu'est ce que je pouvais faire d'autre
I said I'll see what I can do / J'ai dit je vais voir ce que je peux faire
I took her to a supermarket / Je l'ai emmenée au supermarché
I don't know why but I had to start it somewhere /
Je ne sais pas pourquoi mais il fallait bien que je commence quelque part,
So it started there / Alors ça a commencé là bas.
I said pretend you've got no money / Je lui dit prétends que tu n'as pas d'argent
She just laughed and said oh you're so funny / Elle a juste ri et dit oh t'es trop drôle.
I said yeah?/ J'ai dit ah, ouais ?
Well I can't see anyone else smiling in here / Ben je ne vois personne d'autre sourir ici.
Are you sure you want to live like common people /
Es tu sûr de vouloir vivre comme les gens ordinaires
You want to see whatever common people see /
Tu veux voir tout ce que les gens ordinaires voient
You want to sleep with common people / Tu veux coucher avec des gens ordinaires,
You want to sleep with common people like me /
Tu veux coucher avec des gens ordinaires comme moi

But she didn't understand / Mais elle ne comprit pas
She just smiled and held my hand / Elle a juste souri et tenu ma main
Rent a flat above a shop / Loues un apart au dessus d'un magasin
Cut your hair and get a job / Coupes tes cheveux et trouve un travail
Smoke some fags and play some pool / Fumes quelques clopes et joues au billard,
Pretend you never went to school / Prétends que tu n'es jamais allée à l'école.
But still you'll never get it right / Mais tu n'y arriveras jamais quand même
'Cos when you're laid in bed at night / Parce ce que quand tu es étendue sur ton lit la nuit,
Watching roaches climb the wall / En train de regarder les cafards monter sur le mur,
If you call your Dad he could stop it all / Si tu appelles ton père il peut tout arrêter

You'll never live like common people / Tu ne vivras jamais comme les gens ordinaires
You'll never do what common people do / Tu ne feras jamais ce que les gens ordinaires font
You'll never fail like common people / Tu n'échoueras jamais comme les gens ordinaires
You'll never watch your life slide out of view / Tu ne regarderas jamais ta vie glisser hors de portée
And dance and drink and screw / Et ne danseras et boiras et coucheras pas,
Because there's nothing else to do / Juste parce qu'il n'y a rien d'autre à faire

Sing along with the common people / Chantes avec les gens ordinaires
Sing along and it might just get you thru' / Chantes avec eux et peut être que ça t'aidera
Laugh along with the common people / Ris avec les gens ordinaires
Laugh along even though they're laughing at you / Ris avec eux, bien qu'ils se moquent de toi
And the stupid things that you do / Les choses stupides que tu fais
Because you think that poor is cool / Parce que tu penses que d'être pauvre, c'est cool