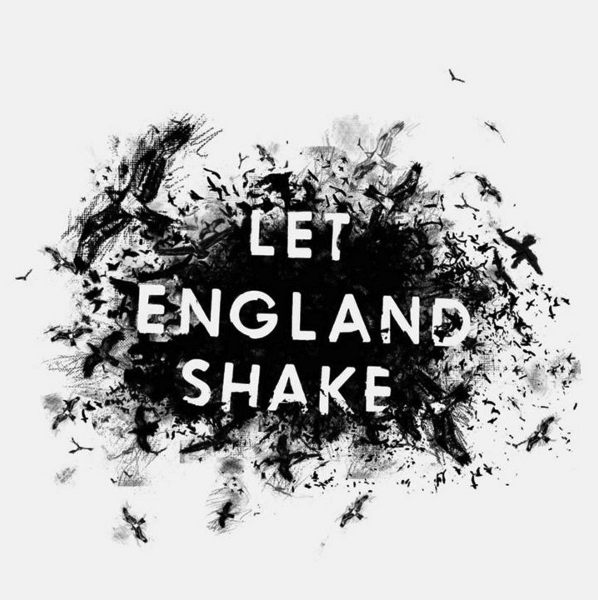 Cette semaine, la chanteuse PJ Harvey est devenue la première artiste à avoir gagner deux fois le Mercury Prize, un des plus prestigieux prix britanniques – il y a dix avec Tales from the City, Tales from the Sea, et cette année avec son huitième album, Let England Shake, un album très original enregistré en 5 semaines dans une église du Dorset, la région dont est originaire Polly Jean. Influencé par les poésies de Harold Pinter et TS Eliot, et la musique des Doors et du Velvet Underground, Let England Shake a pour thème la guerre, la violence de notre monde, des conflits historiques comme la bataille de Gallipoli aux soldats se battant en Iraq et Afghanistan.
Un thème nouveau et percutant pour cette vraie rockeuse – un elfe brun un peu sauvage, aux sourcils épais et à la voix puissante qui vit dans un cottage à la campagne et a grandi en écoutant John Lee Hooker, Robert Johnson, Jimi Hendrix et Captain Beefheart – qui s'est fait connaître avec des chansons comme This is Love, Down by the Water et ma préférée, Good Fortune.
Celle que l'on a décrit comme une 'blues-rock sorceress trafficking in social politics and dark, tormented songwriting" (une sorcière du blues rock qui magouille avec la politique sociale et des chansons sombres et tourmentées) répond par un "People paint me as some kind of black witchcraft-practising devil from hell, that I have to be twisted and dark to do what I am doing. It's a load of rubbish" (Les gens me dépeignent comme une sorte de sorcière venue de l'enfer, pratiquant de la magie noire, et pensent que je dois être sombre et bizarre pour faire ce que je fais. C'est n'importe quoi). Car elle parle pourtant d'une voix douce, et exerce son métier de manière raisonnée et posée. "It makes me want to continue to go about my work as I've always done, taking great care and seriousness over it," (Cela me donne envie de continue de faire mon travail comme je l'ai toujours fait, avec grand soin et sérieux) a-t-elle dit en recevant son prix.
PJ joue de toutes sortes d'instruments (piano, orgue, basse, saxophone, autoharp), mais pour cet album elle s'est d'abord concentrée sur les textes, passant deux ans à peaufiner ses poèmes avant de les mettre en musique. La chanson titre de l'album, Let England Shake, a une mélodie à l'autoharp entraînante malgré son thème. Écoutez PJ expliquer pourquoi elle a choisi de prendre une voix aiguë, enfantine, et comment elle se penche sur chaque détail de ses concerts dans cette interview sur Arte.


Let England Shake, de PJ Harvey (2011)
The West's asleep/ L'Occident est endormi
Let England shake/ Laissez l'Angleterre trembler
Weighted down with silent dead/ Lestée par des morts silencieux
I fear our blood won't rise again/ J'ai peur que notre sang ne monte jamais plus

England's dancing days are gone/ Les jours de danse de l'Angleterre sont terminés
Another day, Bobby, for you to come/ Un autre jour, Bobby, pour que tu viennes
home and tell me indifference/ à la maison, et me dises que l'indifférence
is won won won/est gagnée gagnée gagnée

Smile, smile Bobby, with your lovely mouth/ Souris, souris Bobby, avec ta jolie bouche
Pack up your troubles/ Remballes tes soucis
And let's head out/ Et allons
To the fountain of death/ à la fontaine de la mort
And splash about/ et barbotons
Swim back and forth/ Nageons de long en large
Back back, laugh out loud/ En arrière, en arrière, et rions bien fort

Until the day is ending/ Jusqu'à la fin du jour
And the birds are silent in the branches/ Et les oiseaux sont silencieux sur leurs branches
And the insects are courting/ Et les insectes se font la cour
And by the shores/ Et sur les rives
Heavy stones are falling/ De lourdes pierres tombent
Smile, smile Bobby, with your lovely mouth/ Souris, souris Bobby, avec ta jolie bouche
Pack up your troubles/ Remballes tes soucis
And let's head out/ Et allons
To the fountain of death/ à la fontaine de la mort
And splash about/ et barbotons
Swim back and forth/ Nageons de long en large
Back back, laugh out loud/ En arrière, en arrière, et rions bien fort