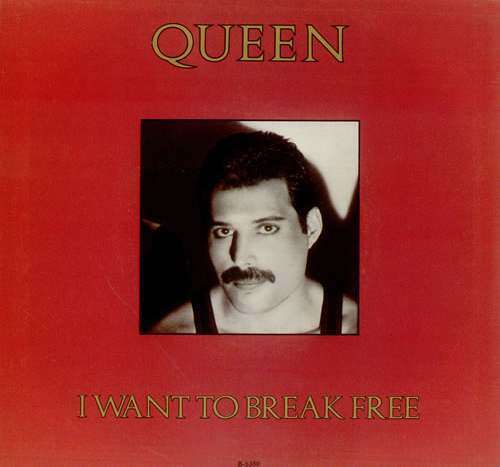 Voila ce mois-ci c'est Movember, et qui de mieux pour célébrer le mois de la moustache que le beau Freddie Mercury, la Reine du stadium rock et l'un des plus grands chanteurs de rock de tout les temps. J'ai donc choisi comme Hit No 10, I Want to Break Free de Queen, à cause de son clip tout simplement incroyable: minijupe en cuir, top rose, moustache et aspirateur – que demande le peuple?
Queen bien sûr tout le monde connaît, avec des hits internationaux comme Bohemian Rhapsody; Another One Bites the Dust; et We Will Rock You et le sublime Don't stop me know. Rien de tel pour vous mettre la pêche quand vous faites le ménage... Selon un sondage de la BBC en 2007, les Britanniques auraient choisi Queen comme le meilleur groupe britannique de tous les temps, devant les Beatles et les Stones.
Né Farrokh Bulsara à Zanzibar, d'origine Perse, éduqué en Inde, et à l'accent plus British tu meurs, Freddie Mercury n'a jamais été celui que vous croyez. Et encore moins dans le clip de I Want to Break Free. La chanson a été écrite par le bassiste de Queen John Deacon (apparemment inspiré par les combats féministes de l'époque) et est populaire en Afrique du Sud et même au Brésil.
A part des hits à n'en plus finir, Queen est connu comme un des pionners du clip (voir Radio Ga Ga, inspirée par Métropolis de Fritz Lang), et cette vidéo réalisée par David Mallet (David Bowie, AC/DC, Def Lepard) est complètement folle. Le but, c'était de montrer que malgré leur succès, Queen avait gardé un sens de l'humour et ne se prenait pas trop au sérieux. Le résultat très British, c'est une parodie du feuilleton télé Coronation Street, un beau moment de cross-dressing, et une scène hallucinante avec des danseurs du Royal Ballet.
En 1984, ce clip était si controversé aux États-Unis qu'il fut censuré par MTV. Aujourd'hui la vidéo est soumise à une limite d'âge sur youtube. Incroyable quand on voit les clips sortis ces dernières années...


I want to break free, de Queen (1984)
I want to break free/ Je veux me libérer
I want to break free/ Je veux me libérer
I want to break free from your lies/ Je veux me libérer de tes mensonges
You're so self satisfied I don't need you/ Tu es tellement satisfait de toi que je n'ai pas besoin de toi
I've got to break free/ Je dois me libérer
God knows/ Dieu le sait
God knows I want to break free/ Dieu sait que je veux me libérer

I've fallen in love/ Je suis tombé amoureux
I've fallen in love for the first time/ Je suis tombé amoureux pour la première fois
And this time I know it's for real/ Et cette fois je sais que c'est pour de vrai
I've fallen in love/ Je suis tombé amoureux
God knows/ Dieu sait
God knows I've fallen in love/ Dieu sait que je suis tombé amoureux

It's so strange but it's true/ C'est étrange mais c'est vrai
Oh, I can't get over the way you love me like you do/
Je n'arrive pas à comprendre la façon dont tu m'aimes,
But I've got to be sure/ Mais je dois en être sûr
When I walk out that door/ Quand je franchirais cette porte
Ooh, how I want to be free, baby/ Ooh, comme je veux me libérer, bébé
How I want to be free/ Comme je veux être libre
How I want to break free/ Comme je veux me libérer

But life still goes on/ Mais la vie continue
I can't get used to living without/ Je ne peux pas m'habituer à vivre sans
Living without you by my side/ Vivre sans toi à mes cotés
I don't want to live alone/ Je ne veux pas vivre seul
So baby can't you see/ Alors bébé, ne vois-tu pas
Oh, I've got to break free/ Que je dois me libérer
Baby, baby can't you see/ Bébé, bébé ne vois-tu pas
I've got to break free/ Que je dois me libérer
God knows I want to/ Dieu sait que je veux
God knows I want to/ Dieu sait que je veux
God knows I want to break free/ Dieu sait que je veux me libérer