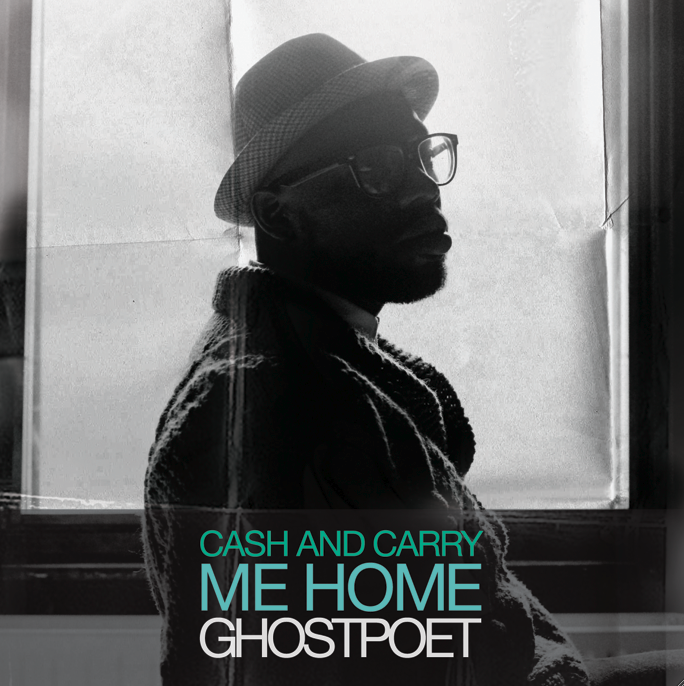 On attaque 2012 en douceur avec cette chanson de Ghostpoet illustrant parfaitement à mon sens le blues de janvier. La fête est finie, et qui de mieux pour nous en parler qu'Obaro Ejimiw, 28 ans, "poète fantôme" londonien (originaire du Nigeria et de la Dominique via Coventry) se spécialisant dans le blues urbain. Cet héritier de The Streets, Massive Attack et Tricky a l'air à moitié endormi. Tel un somnambule il se promène avec ses poèmes à travers des scènes de la vie de tous les jours.
La première fois que je l'ai rencontré, c'est lorsque je suis tombée sur ce clip, Survive It, où il se balade en peignoir, une tasse de thé à la main (!), dans les rues de son quartier. Comme Cash and Carry Me Home, elle fait partie du premier album de Ghostpoet, Peanut Butter Blues and Melancholy Jam, sorti l'année dernière. Avec ses boucles minimalistes et envoûtantes, il mêle légèreté et appréhension, rythmes lents et paroles hypnotiques empruntés à la grande tradition britannique du trip-hop.
Cash and Carry Me Home est une chanson décrivant notre poète perdu et saoul après une grosse soirée. Il n'a qu'une envie – qu'on le ramène chez lui... Plus généralement, il cherche une sortie de secours à sa vie qui s'enlise. Mais je ne me fais pas trop de souci pour Ghostpoet... Le très beau clip est de Tim Brown.



Cash and carry me home, de Ghostpoet, 2011
The right distance, the right distance/ la bonne distance, la bonne distance

My hand grip whisky like a newborn child/
Ma main serre le whisky comme si c'était un nouveau né
Last night I must admit it got quite wild now/
Hier soir je dois l'admettre ce fut assez sauvage
Morning's approached and I wrestle with a headache/
Le matin s'est approché et je lutte avec un mal de tête
That was spawned in hell by the devil himself/
Qui fut créé en enfer par le diable lui-même
Now it's not quite clear/ Maintenant c'est pas très clair
But I wonder what shenanigans brought me here/
Mais je me demande quelles embrouilles m'ont amené ici
While I'm cryin' out loud and I'm feeling quite sorry for myself/
Pendant que je crie tout haut et que je m'apitoye sur mon sort
I need to check my health/ Je dois vérifier mon état de santé
Cause I ain't mashin' no one but myself/
Car je n'écrase personne d'autre que moi-même

I know we fuss and fight here a little bit/
Je sais que nous nous tracassons et nous battons ici un petit peu
I've had a couple drinks well a little bit/
J'ai descendu un ou deux verres, enfin un petit peu
I'm beggin' you/ Je t'en supplie
Just carry me home home home home home/
Porte moi juste jusqu'à la maison

I'm all on my own/ Je suis tout seul
Smashed up my phone/ J'ai cassé mon téléphone
Not sure of whereabouts/ Je ne sais pas trop où je suis
My mum kept on callin' me just tellin' me to sort it out, sort it out/
Ma maman ne fait que de m'appeler, me disant de tout arranger, tout arranger
Mum look, readin' books and takin' tests won't take away the pain in chest/
Maman écoute, lire des livres et passer des exams n'enlevera pas la douleur dans mon coeur
The aching limbs decide to vapor, sparked up your cigarette/
Mes membres douloureux décident de s'évaporer, étincelle de ta cigarette
Lookin' out the window at the world/
Regardant le monde par la fenêtre
I just ain't ready yet/ Je ne suis pas encore prêt
Such things just get me stressed/ Les choses comme ça cela me stresse
Grey hairs are springin' up and I'm startin' to shake a bit/
Des cheveux gris poussent, et je commence à trembler un petit peu
I've still got some whisky left, maybe I'll just take a sip/
Il me reste encore un peu de whisky, peut-être que je vais prendre just une gorgée

I know we fuss and fight here a little bit/
Je sais que nous nous tracassons et nous battons ici un petit peu
I've had a couple drinks well a little bit/
J'ai descendu un ou deux verres, enfin un petit peu
I'm beggin' you/ Je t'en supplie
Just carry me home home home home home/
Porte moi juste jusqu'à la maison
I'm all on my own/ Je suis tout seul
I've kinda lost my throne, I'm absent from the scene/
J'ai perdu mon trône en quelque sorte, je suis absent de la scène
I'm searchin' for a way in life, I'm lookin' for a theme/
Je cherche une voie dans la vie, I cherche un thème
A plan or a scheme, a road to a better place/
Un plan ou un projet, une route vers un endroit meilleur
I'm splashin' water on my face/ J'éclabousse mon visage
Wake up lazy bones, please just take me home/
Réveilles-toi feignant, s'il te plait ramène moi juste à la maison
I'm out of my comfort zone, the liquid's wearin' off/
Je suis en dehors de ma zone de confort, le liquide se dissipe
Now I just feel alone/ À présent je me sens juste tout seul

I know we fuss and fight here a little bit/
Je sais que nous nous tracassons et nous battons ici un petit peu
I've had a couple drinks well a little bit/
J'ai descendu un ou deux verres, enfin un petit peu
I'm beggin' you/ Je t'en supplie
Just carry me home home home home home/
Porte moi juste jusqu'à la maison