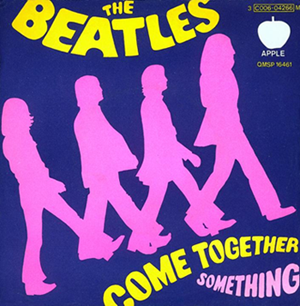 L'une des meilleures chansons du disque Abbey Road des Beatles (quoique j'ai un faible pour les mignons Here Comes the Sun, et Oh Darling) est le 'opening track', Come Together.
Écrit et chanté par John Lennon, cette chanson fut inspirée par le slogan de l'homme politique et amateur de LSD Timothy Leary, ('Come together, join the party') et aurait été écrit par Lennon durant un de ses fameux bed-in avec Yoko Ono. Ironiquement pour une chanson intitulée "Rassemblez-vous", elle fait partie du dernier album enregistré des Beatles, et est sortie juste quelques mois avant que le groupe ne se sépare.
Les fans des Beatles s'accordent à dire que chaque couplet de la chanson décrit l'un des Beatles mais ont de nombreuses et divergentes interprétations... En général, le premier couplet est considéré comme décrivant George; le deuxième c'est Ringo; en troisième c'est John; et finalement Paul.
Ce hit a été repris par énormément de musiciens, d'Aerosmith aux Arctic Monkeys en passant par The Supremes et Michael Jackson...




Come Together, des Beatles, 1969

Here come old flat top/ Voici venir la guitare plate
He come groovin' up slowly/ Il débarque tranquillement
He got joo joo eyeballs/ Il a les yeux ensorcelés
He one holy rollers/ C'est un mec spirituel
He got hair down to his knee/ Il a les cheveux jusqu'aux genoux
Got to be a joker/ C'est un blagueur c'est obligé
He just do what he please/ Il fait seulement ce qui lui plaît

He wear no shoeshine/ Il ne porte pas de cirage
He got toe jam football/ Il joue au foot pieds nus
He got monkey finger/ Il a des doigts de singe
He shoot Coca Cola/ Il s'injecte du coca cola
He say I know you, you know me/ Il dit je te connais, tu me connais
One thing I can tell you is/ Un truc que je peux te dire
You got to be free/ C'est que tu dois être libre
Come together, right now/ Rassemblons-nous, tout de suite
Over me/ Par dessus-moi

He bad production/ Il a une sale production
He got walrus gumboot/ Il a des bottes de morse
He got Ono sideboard/ Il a Ono sur le côté
He one spinal cracker/ Il est complètement disjoncté
He got feet down below his knees/ Il a les pieds bien au-dessous des genoux
Hold you in his armchair/ Il te tient dans son fauteuil
You can feel his disease/ Tu peux sentir sa maladie
Come together, right now/ Rassemblons-nous, tout de suite
Over me/ Par dessus-moi

He roller coaster/ C'est un grand-huit
He got early warning/ Il a reçu un avertissement très tôt
He got muddy water/ Il a de l'eau boueuse
He one Mojo filter/ Il est un filtre Mojo
He say one and one and one is three/ Il dit un et un et un font trois
Got to be good looking/ Il doit être beau
Cause he's so hard to see/ Parce qu'il est difficile à voir
Come together, right now/ Rassemblons-nous, tout de suite
Over me/ Par dessus-moi