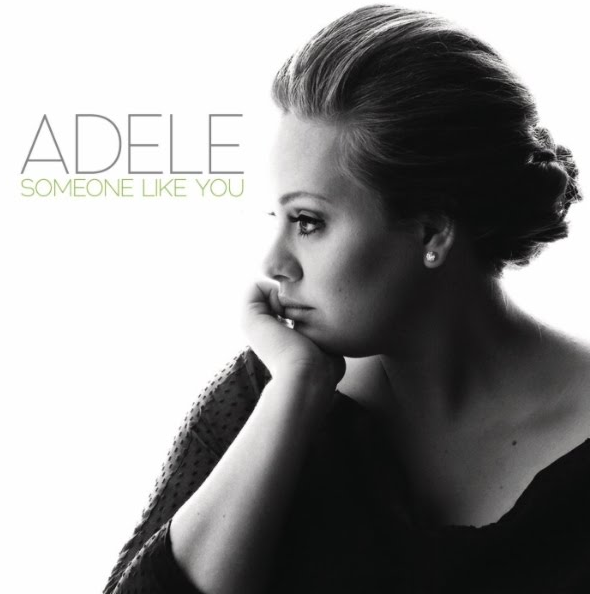 Adele, une jeune chanteuse Londonienne de 22 ans, est la nouvelle reine des charts du Royaume-Uni. C'est la première artiste à avoir deux singles et deux albums dans le top five des charts anglais depuis les Beatles. Elle aussi devenue la chanteuse avec un single en première position pour le plus de semaines consécutives, dépassant Madonna. Sans parler de son succès international: apparemment, on l'adore en Norvège et aux États-Unis; en ce moment elle est numéro 1 dans 17 pays.

Adele a grandi en écoutant les Spice Girls, The Streets et la chanteuse de soul Etta Jams, et a étudié à la Brit School, une école de musique très connue d'où sont sorties de nombreuses stars, y compris Leona Lewis et Amy Winehouse. Elle doit son succès à sa voix phénoménale, bien sûr, mais aussi à son naturel.

Derrière ses faux airs de pin-up des Sixties se cache une Londonienne à la grande gueule, que l'on décrit comme sassy (impertinente) et bolshie (insolente, pugnace) et qui répond aux journalistes avec des f%cking ci et des f&cking ça. Elle dit: 'I am bolshie yeah, I have an opinion. I don't want to be this girl who just sits there and is told what to say in interviews. My mum taught me how to be independent and not take any bullshit.' (Je veux pas être une fille qui s'assoit sagement et dis ce qu'on lui a dit de dire aux interviews. Ma maman m'a appris à être indépendante et ne pas me laisser faire.)
C'est incroyable: elle parle comme toutes les ados qui vous cassent les oreilles dans les bus, avec un accent à couper au couteau, ricane d'un rire strident, et tout d'un coup se lance à pleins poumons une chansons soul pleine d'émotion (qu'elle écrit et compose elle-même). Vous verrez ce que je veux dire en regardant sa session de MTV Unplugged.

Cela fait depuis 2008 qu'elle a du succès, avec des chansons comme Chasing Pavement et Hometown Glory (un ode à Londres). Mais c'est sa performance de son dernier hit, Someone Like You, au Brits Awards en février qui l'a fait véritablement devenir la chouchou des Britanniques. Une chanson sur le thème de la séparation, qui semble parler à tout le monde...
Someone Like You, par Adele, 2010
I heard that you're settled down/ J'ai entendu que tu t'es installé
That you found a girl and you're married now/
Que tu a trouvé une fille et que maintenant tu es marié
I heard that your dreams came true/ J'ai entendu que tes rêves se sont réalisés
Guess she gave you things I didn't give to you/
Je suppose qu'elle t'a donné des choses que je ne t'avais pas donné
Old friend, why are you so shy?/ Mon vieil ami, pourquoi es-tu si timide?
Ain't like you to hold back or hide from the light/
C'est pas comme si tu te retenais ou te cachais de la lumière

I hate to turn up out of the blue uninvited/
Je suis désolée d'arriver comme ça sans être invitée
But I couldn't stay away, I couldn't fight it/
Mais je ne pouvais pas rester au loin, je ne pouvais pas résister
I had hoped you'd see my face/ J'avais espéré que tu aurais vu mon visage
And that you'd be reminded that for me it isn't over/
Et que tu te serais rappelé que pour moi ce n'est pas fini

Nevermind, I'll find someone like you/ Ça ne fait rien, je trouverai quelqu'un comme toi
I wish nothing but the best for you, too/ Je ne souhaite que le meilleur pour toi
Don't forget me, I beg/ Ne m'oublie pas, je t'en prie
I remember you said/ Je me souviens que tu as dit
"Sometimes it lasts in love/ Parfois l'amour dure longtemps
But sometimes it hurts instead"/ Mais parfois il y a une blessure à la place
Sometimes it lasts in love/ Parfois l'amour dure longtemps
But sometimes it hurts instead, yeah/ Mais parfois il y a une blessure à la place

You know how the time flies/ Tu sais que le temps file
Only yesterday was the time of our lives/ Hier seulement c'était la belle vie
We were born and raised in a summer haze/ On est né et a été élevé dans une brume d'été
Bound by the surprise of our glory days/ Liés par la surprise de nos jours de gloire

I hate to turn up out of the blue uninvited/
Je suis désolée d'arriver comme ça sans être invitée
But I couldn't stay away, I couldn't fight it/
Mais je ne pouvais pas rester au loin, je ne pouvais pas résister
I had hoped you'd see my face/ J'avais espéré que tu aurais vu mon visage
And that you'd be reminded that for me it isn't over/
Et que tu te serais rappelé que pour moi ce n'est pas fini
Nevermind, I'll find someone like you/ Ça ne fait rien, je trouverai quelqu'un comme toi
I wish nothing but the best for you, too/ Je ne souhaite que le meilleur pour toi
Don't forget me, I beg/ Ne m'oublie pas, je t'en prie
I remember you said/ Je me souviens que tu as dit
"Sometimes it lasts in love/ Parfois l'amour dure longtemps
But sometimes it hurts instead"/ Mais parfois il y a une blessure à la place
Sometimes it lasts in love/ Parfois l'amour dure longtemps

Nothing compares/ Rien n'est aussi bien
No worries or cares/ Ni soucis ni préoccupations
Regrets and mistakes, they're memories made/
Des regrets et erreurs, c'est de l'histoire ancienne
Who would have known how bittersweet this would taste?
Qui aurait su comment tout ça prendrait un goût amer?

Nevermind, I'll find someone like you/ Ça ne fait rien, je trouverai quelqu'un comme toi
I wish nothing but the best for you, too/ Je ne souhaite que le meilleur pour toi
Don't forget me, I beg/ Ne m'oublie pas, je t'en prie
I remember you said/ Je me souviens que tu as dit
"Sometimes it lasts in love/ Parfois l'amour dure longtemps
But sometimes it hurts instead"/ Mais parfois il y a une blessure à la place

Nevermind, I'll find someone like you/ Ça ne fait rien, je trouverai quelqu'un comme toi
I wish nothing but the best for you, too/ Je ne souhaite que le meilleur pour toi
Don't forget me, I beg/ Ne m'oublie pas, je t'en prie
I remember you said/ Je me souviens que tu as dit
"Sometimes it lasts in love/ Parfois l'amour dure longtemps
But sometimes it hurts instead"/ Mais parfois il y a une blessure à la place
Sometimes it lasts in love/ Parfois l'amour dure longtemps
But sometimes it hurts instead"/ Mais parfois il y a une blessure à la place
PS Si vous aimez Adele, vous aimerez peut-être ces autres jeunes filles: MIA, Speech Debelle, Laura Marling; Marina & the Diamonds; et Jessie J